A Well-balanced Camp between Academics and Sports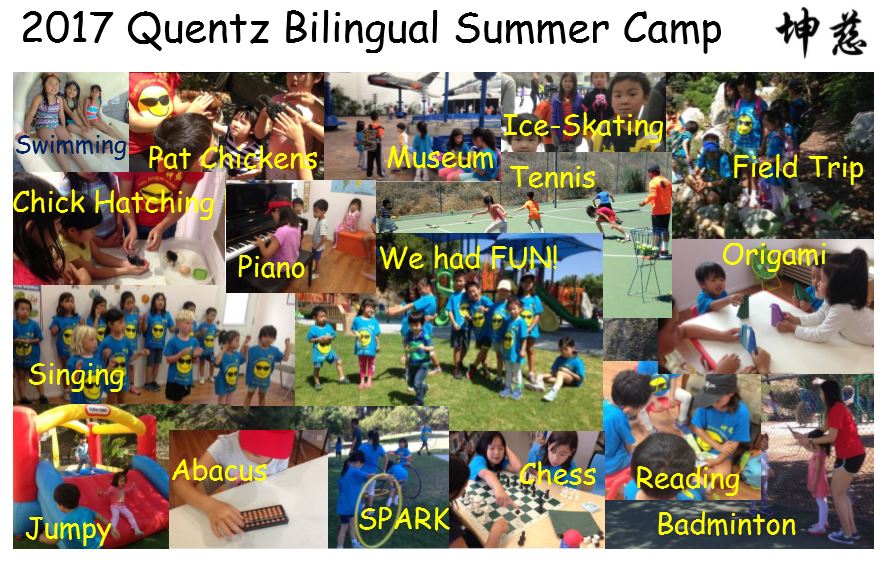 Overview of 2017 Summer Camp
This year, we had an exciting and fulfilling 7 weeks of summer camp at Quentz Bilingual. Our students came from many different places including different areas of San Diego, Rancho Sante Fe and even Los Angeles. Kids participated in both indoor and outdoor activities, and most importantly, they made friends and had a lot of fun. The above picture collage includes some of our camp activities. The following below are the highlights of our summer camp:
Academics:
Abacus and Mental Math
Build an Interactive Website
Chess
Chinese
English Reading
Origami
Sports:
Ice-Skating
Swimming
Tennis
Field Trips and Other Enrichment:
Hands-on Chick Hatching Project: Students observed the embryos development inside the eggs and watched one of the chicks hatching out during the class time. They learned how to tell the sex of the little chicks, participated in taking care of them, and observed the development differences between male and female chicks (see the updates on the chick hatching project here).
Trip to Museum of Man at Balboa Park featuring prehistoric artifacts that focus on development and time lapse of mankind
Trip to Poway Mid-land Railroad at Old Poway Park. Students got to walk along to railroad and enjoy nice scenery
SPARK with YMCA staff
Trip to the Japanese friendship garden, students were engaged in learning Japanese culture and community legacy
Trip to Air and Space Museum located at Balboa Park. Students explored the timeline of aviation development along with exploring scientific interactive galleries.
We were thrilled to have the students come to the academy this summer to learn new skills, but most importantly have lots of fun! They can continue to learn about and follow up on the growth of our new baby chicks (see updates on chicks). Furthermore, they can continue to practice their Chinese by singing the 6 Chinese songs they have learned along with choreography (see videos). We would encourage students practice their new skills and even potentially teach others. We hope that the students continue to learn more in and outside the academy along with staying active and eating healthy! Lastly, there is an improving feedback and comments questionnaire located on the 2017 summer camp blog for parents to fill. The fields in the comment/suggestion box were built by our camp students on July 19th, 2017 in order for both parents and visitors to add comments or suggestions. We are looking forward to reading feedback about our summer camp so that we can improve it for next year! We thank parents and guardians for trusting us with the students and we hope everyone has a good rest of the summer!