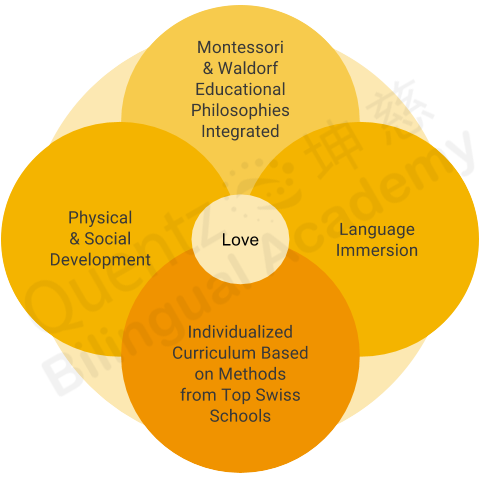 The following interview gives details on our education philosophy and program history.
Quentz Bilingual Academy
A Well-Rounded Educational Experience
by MICHELLE TREMBLAY
"We believe that learning should be inspired and not be forced, and learning can happen everywhere and at any time," said Dr. Cindy Zhang, founder of Quentz Bilingual Academy in Rancho Penasquitos. Quentz Bilingual Academy is an English-Chinese bilingual school that offers preschool (with beginner and advanced levels), after-school, and summer camp programs to students ages 2-12. In addition, they provide enriching weekend classes such as Abacus Math, Chinese Calligraphy, and Teen Modeling, to name a few.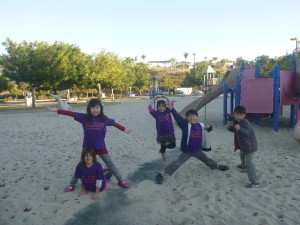 Quentz Bilingual Academy opened its doors in September 2015, after Dr. Zhang spent several years developing and testing its concepts. "The motivation was to make language learning fun," she explained. Dr. Zhang especially emphasizes the school's loving and encouraging setting. "We're like a big family," she shared. "We provide a safe environment for our students to develop the values they will need for success, learn to think critically and act ethically, and acquire the skills needed for growing in all aspects of life." Situated in a quiet residential area, the Academy is conveniently located about a mile away from the I-15 and 56 exits. Their serene location is also just a five-minute walk from Ridgewood Park.
The school's education concept consists of three main elements. The first is bilingual learning, focusing on the Chinese and English language. Second is the learning-by-doing method. "By learning from students' own experiences, either a project they did or games they played, students often develop deeper understanding," explained Dr. Zhang. The last element is character building. "We believe emotional intelligence could be more important than academic intelligence," she shared. "With emotional intelligence, students can handle much more obstacles in life, will better know how to deal with other people, in general will be self-motivated and self-disciplined, and live a much happier life." The school also provides each student with individualized attention, possible in part because of small class sizes.
Dr. Zhang was born in Beijing, China, but was educated in the United States, and obtained a Ph.D. from University of California, Berkeley. She was elected and served as school council member for Canyon View Elementary School from 2006 to 2007 and, over the last 15 years, has been involved with many educational projects, such as developing an everyday math program, and creating an online Chinese program aimed toward non-native speakers.
Although Dr. Zhang is extremely focused on academics, she wants to emphasize overall happiness in life. "We want to teach kids to live a happy life, believe in themselves, be open-minded, self-confident, and willing to explore the world on their own," said Dr. Zhang. "We educate each child as a whole – socially, emotionally, academically, and physically. We care more about teaching kids how to live than how to make a good living."