Abacus Math (Grade K-5)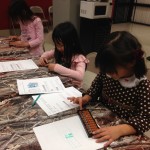 An abacus is an ancient tool used in modern times. It has beads that slide on rods. An abacus can be used to count, add, subtract, multiply, divide, and more. Expert abacus users can sometimes perform calculations faster than on a calculator. This fun class teaches kids the basics of abacus, how to do mental math, how to do dictation---a very important aspect of abacus training, and how to use abacus to solve different math problems. While learning how to use an abacus, students develop math skills that are useful in both school and everyday life. It helps them gain a solid understanding of abstract math concepts, making all math-related tasks easier to learn and understand.
M  4pm            Saturday
Mandarin1 (Ages 2-5)
Children's songs, rhymes, flash cards, simple role play, and acting are the focus of this class. Language learning is natural for these ages; the goal of this class is to teach little ones Chinese in the most natural way possible. You will be amazed how fast the little kids can learn from playing games, listening and singing.
M, W, F    10:15am         Saturday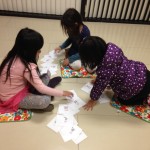 Mandarin2 (Grade K-5)
This class systematically teaches the four skills in Mandarin Chinese: Listening, Speaking, Reading, and Writing. Our unique teaching approach keeps students interested in the process of learning a new language. It involves games, songs, tongue twisters, craft projects, and stage drama/acting. These are tailored to the elementary school language learners. Themes include greetings, introduction, body parts, family, food, colors, numbers, telling time, animals, weather, feelings, hobbies and school. Culture immersion is also an emphasis of this class, including important holidays, traditions and the stories behind.       Th   4pm    Saturday
Tennis
This class is taught by two certified professional coaches. Kids are divided by age. Two different approaches are used for younger group (ages 3 -5) and older group (ages 6-10). The proven Quick Start method will teach students efficient movements and help them to play the game more effectively now and in the future. The rules, serve, forehand, backhand, volleys and the overhead smash will be covered. Racquets and balls are provided. Students should wear tennis shoes and comfortable clothing for this class
Tuesday    4pm
Spanish (Ages 3 and up)
Hola! Introduce your child to an afternoon of Spanish taught by our Spanish/English bilingual teacher. Specifically designed for your child's developmental stage, your child will soon be living, learning, playing and singing in Spanish. Music, games, puzzles and more are used to actively engage your child while expanding your child's vocabulary, encouraging conversation and improving their etiquette and social skills. If you are wondering whether to enroll your child, now is the optimal time to take advantage of your child's natural ability to acquire a second or third language!
M-F 2:30pm
Chinese Calligraphy (Grade K-5)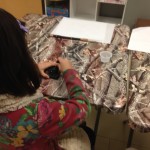 This fun and engaging class teaches stroke order and shape of strokes, and how to write Chinese characters in Calligraphy. It introduces kids to Chinese radicals, the evolution of Chinese Writing, the five styles of Calligraphy and the art of producing decorative handwriting with a brush. It trains students to master their mind's focus, breathing and movements. The class involves creative games to see, hear and try Chinese writing, observe calligraphers in action and print the characters in different styles.
Hands-on Science (Ages 5 and up)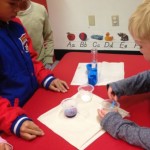 This Class allows kids to perform 10 amazing safe and fun science experiments that range from erupting a color-changing volcano to glow-in-the-dark magic potion. Students will learn about basic principles behind the experiments including the difference between acids and bases, and master skills such as how to use a test tube and pipette. Many experiments in this class are based on the nationally recognized Great Explorations in Math and Science program pioneered at UC-Berkeley's Lawrence Hall of Science. This has been one of our most popular classes.
Origami Insects (Ages 5 and up)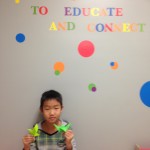 This fun class teaches kids how to use origami paper to make fifteen different insects, including butterfly, dragonfly, ladybug, grasshopper, beetle, ant, etc. Kids will also learn different aspects of these insects, for example, what they eat, where they live, how they take care of their young, and their relationship to humans.